Residential Landscape Design in Greater Torrington CT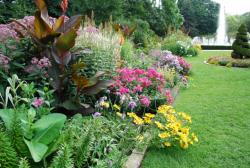 More than just making your neighbors jealous, a beautifully landscaped yard can maximize your outdoor living space and make your home feel like a castle. Having a professional landscaper design your yard is also one of the most cost-effective ways to raise the resale value of your home!
Whatever your reason for choosing professional landscaping, you came to the right place. At Precision Landscaping and Excavating, we are a full-service landscaping company dedicated to providing homeowners in Precision Landscaping and Excavating with the lawns of their dreams, at prices that won't break the bank.
Specializing in landscape design, we have the skill-set and expertise to execute every job to your complete satisfaction, and we won't settle for anything less. We have worked on a wide range of residential and commercial projects, and our goal is to provide complete customer satisfaction on every job we take. With an arsenal of state-of-the-art landscaping equipment and an expert team committed to creating immaculate landscapes, we are the one-stop resource for all your landscaping needs.
So whether you're considering some new plants or a completely renovated landscape, count on Precision Landscaping and Excavating to create a customized solution tailored to your individual needs and budget. You can rest assured that we will never add any hidden fees to your bill and that the initial quote you receive will be the all-inclusive end price.
For more information or to receive a free consultation, please contact us today.
Call Today!
We'll be happy to answer any questions you have.
860-309-1801
Why Choose Us?
Locally Owned & Operated
Quality Service
Attention To Detail
Fully Licensed and Insured
Over 20 Years of Experience
5 Year Warranty with Hardscape Services